We Are Thankful
Thank You
We at Children's Community Clinic are able to care for children and their families because of the generosity of supporters like you. On behalf of the children, families, staff and volunteers- we thank you. Among the many children we were able to help in 2014 was a 3 month old baby girl. This baby girl, despite her mother's countless attempts to feed was failing to thrive. After multiple assessments, we reached out to NW Mothers Milk Bank who generously donated breast milk over several months. Through this collective effort, the baby girl has developed beautifully and is now independently obtaining the nourishment she needs.
With your help, we were able to treat each child and their family with the excellent care deserved by all. This year we met a very sick 12 month old baby boy. After going to the emergency room only to be quickly released, the family came to us worried that they had not been understood and evaluated thoroughly. We provided supportive care for their baby and was available through follow up calls and visits. Our ability to provide focused, dignified healthcare to all our patients allow families to rest assured that they are receiving the highest quality of care. By being a proactive provider for this baby's family, we were able to earn their trust. Now, we care for all the children in their extended family.
How We Help
In 2014 we provided nearly 1,700 pediatric healthcare visits. Of this number, approximately 97% were on the Oregon Health Plan, 3% were uninsured and less than 1% were privately insured.
The diverse population served this year consisted of 46% Caucasian, 23% African American, 5% Asian, 2% Native American, 16% Mixed Race and 8% Other.
How You Can Help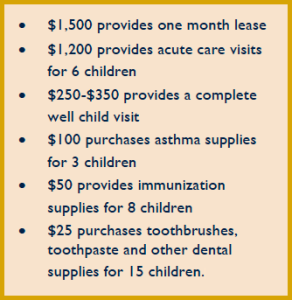 The holiday season is a joyous and celebratory time for many, but for those with fewer resources, it can highlight unmet needs. As a supporter of the Children's Community Clinic, you have an opportunity to provide the essential need of quality healthcare for an underserved child in our local community. This year, consider making a donation to the Children's Community Clinic. Together, we can work towards ensuring all children, regardless of their life situation, become healthy and stay healthy. Please feel free to email us or visit our website to access a link for donations.
To donate, click here to email: donate@ccc4kids.org or click on the Donate box