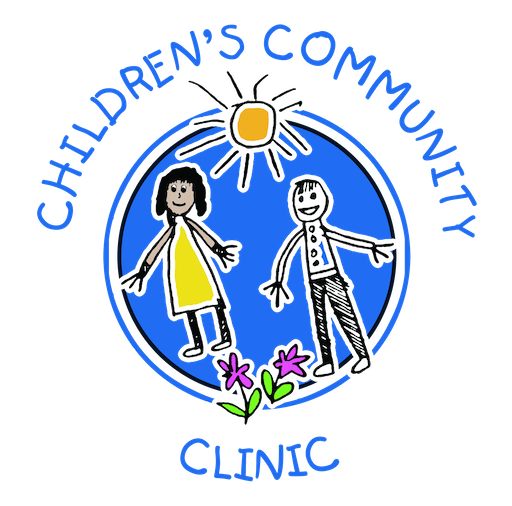 Children's Community Clinic began in 2005. Our Clinic has continuously served the children of our community, paying particular attention to those who may be socially disadvantaged. Our Clinic has a holistic, quality and community approach to healthcare.
Our mission is to provide high quality and compassionate healthcare to children, from birth to 21 years, of families who are underserved (uninsured and underinsured), regardless of ethnicity, geographic residency or ability to pay.  We work with each family to achieve its health goal, recognizing that attending to medical needs may be just the beginning.  We believe high quality healthcare is a right, not a privilege.  We provide excellent care for any child, however our vision is to make sure that children who don't have a place to go have a really great place to go.
We are a 501(c)(3) non-profit organization.
WE ARE CURRENTLY HIRING THE FOLLOWING POSITIONS:
We are currently seeking Providers who are interested in providing excellent primary healthcare to children and young adults one or more days a week, in a community clinic environment. We are looking for Pediatricians, Nurse Practitioners, Physician Assistants, etc., who want to be a part of a growing practice laser focused on excellence in community health. If you are interested please email a brief statement of interest along with your resume – click here.
We have a wide variety of needs for volunteers including social media masters, grant writers, website designers, network and computer specialists, business organizers, event planners, graphic artists, journalists/writers and administrative assistants. Nurses, Medical Assistants, Social Workers, etc. are always welcome. Please email our Volunteer Coordinator or call 503-284-5239 to join our small but great team.
WE NEED THE FOLLOWING VOLUNTEERS:
| Position | Description |
| --- | --- |
| Direct Service Providers | Pediatricians, Nurse Practitioners, Physician's Assistants, Nurses, Medical Assistants, Lab Specialists, Medical Techs, Pharmacists, and Pharmacy Techs |
| Records Management | Assist with reorganization existing file system and with converting to electronic health record system; assist with records documentation and storage. |
| Practice Management | Assist with planning and implementation of new, excellent fully integrated practice management system. Assist with Clinic Operations & Procedures manuals. |
| Chart Review | Review existing charts to determine status of patients and contact those which chronic or incipient issues who haven't recently been seen. |
| Pharmacy/Medication Inventory Management | Establish a great process and procedures for a small medication inventory, tracking and dispensing. |
| Foreign Language Interpretation | Assist with interpretation for patients during medical visits (must be certified), and assist with translation of clinic materials into other languages. |
| Direct Service Provider Specialists | Pediatric specialists willing to donate their time to meet the common and specialized needs of our patients (Ear/Nose/Throat, Pulmonology, Orthopedic, Dermatology, Neurology, Opthalmology, diagnostic imaging, etc.). |
| Health education | Develop culturally appropriate materials for and present information to patients and community. |
| Researchers | Work with the Executive Director to obtain information and feedback from patients and their families regarding community health and clinic service issues. |
| Laundry Committee | Bi-weekly wash, disinfect, fold and delivery of gowns and washables back to the Clinic. |
| Position | Description |
| --- | --- |
| Fundraising/Resource Development | Assist with the planning and successful staging of fundraising activities and events for the Clinic. Assist with general and varied tasks of monthly email blasts, quarterly newsletters and telephone campaigns. |
| Administrative Assistance | Assist with the various administrative tasks at the Clinic (i.e., filing of medical charts, posting, data entry, billing, preparing new client files, preparing paperwork for |
| Web Development & Maintenance | Modify, update and maintain the Clinic website |
| IT Development & Maintenance | Modify, update and maintain the Clinic's ITS systems and equipment. |
| Database programming | Modify, update and maintain the Clinic's databases and associated queries and reports. |
| Business/Strategic Planning | Assist with development of the Clinic's Business/ Strategic Plan. |
| Events Planning | Assist with the planning and successful staging of Clinic community activities and events. |
| Graphic Arts/Print Media Design | Creating, updating and printing Clinic publications and |
| Grant writing | Join the grant team and assist with the grants & funding cycle on behalf of the Clinic. |
| Landscaping & Groundskeeping | Plan, plant and maintain the grounds of the Clinic |
| Corporate Sponsorships | Sponsor Clinic ongoing operational activities; sponsor clinic events; match donations; sponsor fundraising campaign; sponsor client services; adopt families for holiday gifts and support. |
| Members | Individuals committed to serving the Clinic and specifically skilled at bringing financial and professional resources to the Clinic. |
| Volunteer Coordination | Meet with the Executive Director weekly to plan for the volunteer needs of the Clinic; prepare volunteer descriptions; orient new volunteers; prepare report of monthly volunteer activities & hours; maintain volunteer files and records; coordinate volunteer activities, events and awards; periodically recruit volunteers for special projects. |
Our clinic needs your support and assistance to continue to provide services to those children without insurance and for those with minimal insurance. Please join our generous sponsors with your support today.
WE CAN DO WHAT WE DO BECAUSE OF YOU
Thank you to all of our supporters!

Aetna Foundation
Albina Rotary Club
Black United Fund of Oregon
CareOregon
Catlin Gabel
Collins Foundation
Costco Employee Campaign
Hicks Family Foundation
Holzman Foundation
Johnstone Supply
Kaiser Foundation
Legacy Foundation
Near Family Foundation
Oregon Dental Foundation
Oregon Minority Health Office
Pacific Source
Regence Employee Contribution Campaign
Rose Tucker Charitable Trust
Spirit Mountain Comm. Fund
Children's Book Bank
Standard Employee Contribution Campaign
United Health Foundation
Walmart Foundation
Wells Fargo Employee Contribution Campaign
Weston Foundation
Women's Care Foundation
Weston Public Foundation
Young, Juan Trust
Zale Foundation
And many other individual and corporate donors.
Please see our wish list and see if you can help
WE NEED THE FOLLOWING ITEMS:
| Qty | Name | Description |
| --- | --- | --- |
| 2 | File Servers | 64-bit, Intel Dual processor (3 GHz or faster) with 32GB DDR2, fully buffered RAM; Four 250GB drives in a RAID-5 storage array; CD/DVD Burner; Windows Server 2003 (with all service packs) |
| 2 | External Hard Drives | 250 -€" 500GB capacity |
| 2 | Laptop Computers – 15" - 17" | Intel Dual processor (2GHz or faster) with 4G DDR2 RAM; 60G+ drive; CD/DVD Burner; Windows XP Professional |
| 10@$800.00 | Desktop Computers – HP Touchsmart 300z | Intel Core2 Duo processors; 4G DDR2 RAM 30G drive; CD/DVD Burner; Windows XP Professional |
| 4@$2,000.00 | Exam/ Waiting Room computer/education systemsHP TouchSmart 600xt system | |
| 3@$475.00 | Small laser printers for exam rooms | |
| 1@ $7,500.00 | Integrated Appt scheduling, Medical records, Charting and Billing system (software) | |
| 15 @ $ 150.00 | Cisco IP phones (7961G) | |
| 5 @ 250.00/ea | Phone Headsets - Wireless | |
| Qty/Price | Name | (Similar equipment) |
| --- | --- | --- |
| 3 @ $475.00 | Digital scale | Capacity 350Lbs. |
| 1 @ $4850.00 | Digital Infant scale (rolling) | |
| | Pulse Oximeter for infants | |
| 3 @ $749.02/ea | Wall mounted Ophthmalscope / Otoscope | Combined ophthalmascope / otoscope and blood pressure cuff $999.31/ea |
| 3 @ $138.71/ea | Wall mounted Calibrated Blood Pressure Cuff | |
| 7 @ $21.00/ea | Metal speculums -€" common Pederson & Graves | |
| | Oxygen tank with child and adult masks | |
| 1@$2,500 | Spirometer | |
| 1 @ $500.00 | Spirometer calibration syringe | |
| 3 | Welch-Allen Oto/Opthamology machine | |
| 2@ $1800.00 | Gynecological exam table | |
| 1 @ $801.00 | Liquid Nitrogen 20 liter dewer (to freeze warts) | |
| 3 | Denver kits | |
| 2 @ $19.692 @ $26.002 @ $ 20.37 | Blood Pressure cuff sets (with pediatric, infant & extra large cuffs) | |
| 1 @ $1771.00 | AED machine (defibrillator) | |
| 1 @ $575.42 | American Optical one-fifty (or similar) binocular microscope with at least low power (10X) and medium power(45X) objectives 10X wide field eye pieces | |
| 10 @ $7.74/box | Clear glass microscope slides (box of 72) | |
| 1 @ $1009.50 | Crash cart (small) w/pediatric modification | |
| 1 @ $800.00 | Hemoglobin machine | Cuvettes $255.00/box of 200 |
| 1 @ $4893.00 | Autoclave | |
| 1 @ $1745.76 | Lead testing machine | Test kits $290.00/48 tests |
| 1 @ $1027.81 | Hearing screening equipment | |
| $11.28/100 tubes | 12cc centrifuge tubes | |
| $47.79/25 tests | Strep antigen tests | |
| $2,500.00 | Allergy kits - various | |
| $325.98/25 tests | Quick Vue Influenza test | |
| $34.98/vial | Diascreen 10 SG reagent sticks | |
| 1 @ $249.00 | Olympic Medal Circumstraint infant restraint board | |
| 1 @ $259.00 | Olympic Papoose Board | |
| $4.73/box | Cover slips | |
| $155.11/#10 | Pediatric/Infant LP Tray -€" Pharmaseal brand, #4302C | |
| $16.05/box | Plastic pipettes | |
| $23.61/#50 | Fenestrated paper drapes | |
| | Hollister "Plastibell" disposable circumcision devices:1.2cm (#9232)1.3cm (#9233)1.4cm (#9234)1.5cm (#9235) | |
| 5 sets | Sterile instrument packs with:2 curved 4 ½" hemostats, 1 straight 4½ " hemostat, 1 pair iris scissors | |
| 5 sets | Sterile instrument packs with: 1 – 4" tissue forceps, 1 – pair of surgical scissors, 1 – pair needle holders | |
| 5 | Quick Clot 1st Response hemostatic agent | Monsel's solution $14.40/2 oz. |
| $3.87/ 50ml | Lidocaine 1% (multidose vials -€" with epinephrine) | |
| $1.86/ 50ml | Lidocaine 1% (multidose vials -€" without epinephrine) | |
| $1.96/ 8oz | Betadine scrub solution | |
| | Dressing supplies:4x4's2x2's Gauze wrapTapeLarge bandaids, Etc. | |
| $11.50 | #3 scalpel handle | |
| $32.96/ #100 | #10 and #11 scalpel blades | |
| 3 boxes @ $343.77/ea | 3/0 ethilon suture on curved PS-1 needle | |
| 3 boxes @ $63.10/ea | 5/0 black braided silk suture on recurve cutting FS-2 needle | |
| $63.00/box | 3M steristrips – ¼" x 3" #R1541 | |
| $23.77/15ml | Matisol liquid adhesive -€" 4 fl. Oz. | |
| $4.75/ bottle | Johnson+Johnson, "NuGauze" iodoform packing stips ½" x 5yds. #8756 | |
| $31.67/ bottle | Gebauer's ethyl chloride topical anesthetic – 3.5 fl. Oz. | |
| $16.57/ 50 gm | Silver sulfadiazine 1% cream - 50gm | |
| 1 box @ $44.15 | Xeroform Petrolatum gauze 1"x8" | |
| $20.55/ box | Tefla non-adherent pads, 3"€ x 4" | |
| $24.77/ vial | 6"€ silver nitrate applicators | |
| $13.12/ 5ml | Flouristrip (Bausch + Lomb) floroscein ophthalmic drops | |
| 1 @ $104.00 | Spectroline UV light with magnifier | |
| 4 boxes @ $44.50/ea | Surgeon'€™s gloves (size 7) | |
| 4 boxes @ $9.65/ea | Powder-free Nitrile exam gloves - small | |
| 4 boxes @ $10.61/ea | Powder-free Nitrile exam gloves - medium | |
| 4 boxes @ $8.52/ea | Powder-free Nitrile exam gloves - large | |
| Qty | Item |
| --- | --- |
| 1 | 12"€ or 14" Xyron label maker |
| | Xyron magnetic label making supplies |
| | Xyron laminate label making suplies |
| | Xyron ID badge laminate supplies |